A room so warm, comfortable and reassuring that it ends up feeling as relaxing as home. Every inch becomes a space for a new fluidity and serene luxury. A celebration of home sweet home and interior beauty.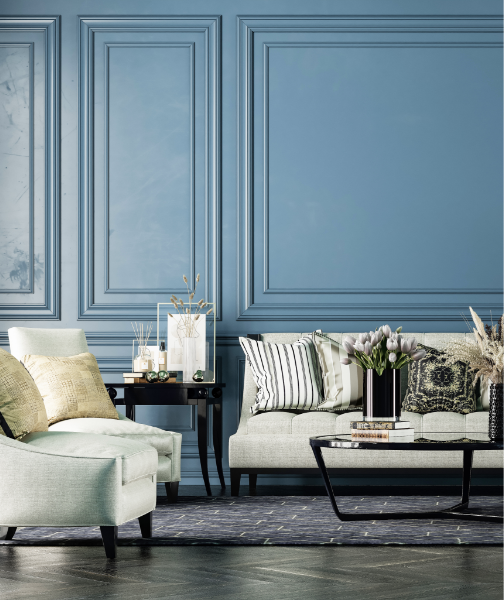 HAUSSMANNIEN
Woody – refined – vintage
The setting / A typically Parisian building. The extravagant high ceilings say it all. Bathed in warm light, the living room exudes tranquility. A luxurious calm reigns throughout the apartment, with its herringbone parquet floors and antique molding. The owner is away but her presence, more than her fragrance, is felt through touches of nobility.
Dress code
A pair of flowing and comfortable pants, ballet flats, hair swept up in a loose, natural bun.
Olfactory emotions
Warmth, comfort, ease, sophistication, harmony.
Key ingredients
Cardamom. Beeswax. Cinnamon. Cedar. Sandalwood.
Cocktail
50% comfortable + 30% reassuring + 20% luxurious
VILLA ELEGANCIA
Woody – luxurious – reassuring
The setting / A stately home that calls to mind the patrician villas of ancient Rome with their dazzling whiteness. This luxurious, extravagant building is all about spaciousness and freshness. Outside, a garden with a mind-boggling variety of plants – a miraculous and protective Eden – offers a stunning view of the horizon. Far from the rumble of the world, this marble palace exudes peace and calm.
Dress code
A light and comfortable negligee, perfect for wandering from room to room, and a pair of sunglasses just in case.
Olfactory emotions
Nobility, refinement, sophistication, hospitality.
Key ingredients
Iris. Neroli. Sandalwood. Vanilla. Benzoin.
Cocktail
60% lavish + 20% Olympian + 20% opulent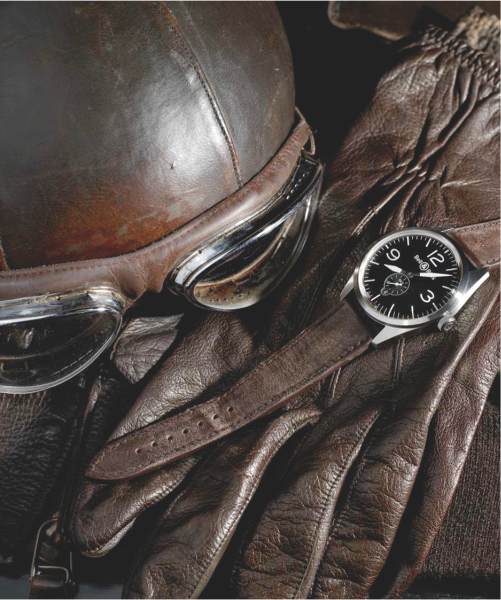 FLIGHT JACKET
Warm – classy – adventurous
The setting / Adventure incarnated in the leather worn by real heroes with their rugged looks, archangels of the Aéropostale airmail service flying by night and setting Transatlantic records… these are the airmen seen in grainy photos from bygone wars. Reassuring and exhilarating at the same time, the scent of leather tells tales of heroism and nostalgia.
Dress code
The leather jacket with shearling lining that's been worn a thousand times and a well-read copy of Antoine de Saint Exupéry's Night Flight.
Olfactory emotions
Adventure, masculinity, sensuality, sophistication.
Key ingredients
Leather. Safran. Patchouli. Vanilla.
Cocktail
50% adventuresome + 30% reassuring + 20% fearless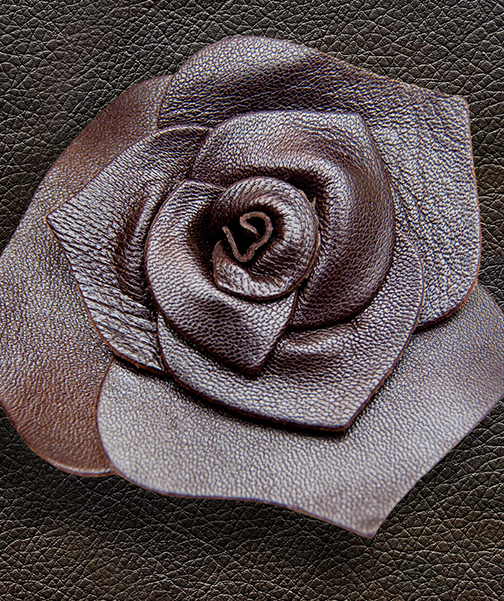 FLEUR DE CUIR
Woody – Classy – Warm
Is that a leather flower in the distance? One dreamt up by an alchemist or poet, exuding an air of mysticism and drawing us inexorably into meditation? That sure is what it looks like! A touch of pure happiness, this fragrance explores a new frontier of luxury, one that is more addictive, more generous, more gourmet.
Dress code
An old, sensuous leather motorcycle jacket that feels like heaven.
Olfactory emotions
Warmth, comfort, delight, sensuality.
Key ingredients
Juniper. Iris. Violet petal. Incense. White cedar. Vetiver. Styrax.
Cocktail
60% sensual + 30% addictive + 10% luxurious